Gee, what a surprise! Sammy Sosa cheated during his prime years when he put up silly HR numbers? Whoa! This revelation certainly seals the deal on Sammy not gettin into the HOF. Too bad. Save the tears.
Follow up:
Can you pick out the players in the 1998 MLB HR Leader list that are now linked to juicing?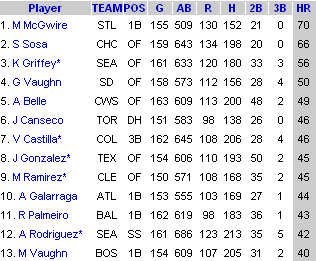 So how long does the Steroids Era span? I say, let's have it begin in 1986 with the introduction of the Anti-Drug Abuse Act. Then let's have it end in 2008 with the Mitchell Report. Wow, that would be 22 years! Might as well not look at the record book for that span of MLB baseball. Because all the numbers, including win/loss, are completely tainted.
Maybe after 10 more years of sifting thru all the 'users', some writer will release a book of what the records would look like if you stripped out all the 'known' juicers. Who would have won the personal awards and what teams would have won their divisions?
By the way, who is the snitch with the god-complex that is dropping these names (A-Rod, Sosa) from the 2003 'sealed list' of players who tested?
Oh, here is the list of guys linked to the juice from the list above:
M McGwire
S Sosa
J Canseco
J Gonzalez
M Ramirez
R Palmeiro
M Vaughn