Finally I can put the Philly Distance Run behind me.
Back in 2006 I tackled my first half-marathon, the Philly Distance Run, in which I finished with the time of 2:41:01. Not good. I started the run out well, cruising along until around mile 8 in which my right leg began cramping up. The rest of the venture was terrible, having to stretch, walk, run, repeat, until the finish line was reached.
Follow up:
This summer I am prepping for the Portland Marathon in early October. So a half-marathon had to be done to see where I am in long distance running. The Foot Traffic Flat Half on Sauvie Island was the perfect measuring stick. Out of necessity, the race is chip-timed because not everyone can get on the island before gun time, we were 29 minutes late. The 7am start was crucial on this day because temps were gonna rise to over 90 by 3pm and running in temps over 80 can be brutal if in the sun.
With no time to really stretch and warm up, the first 3 miles of the run were my warm up. My feet and shins did not handle the early pounding and I had to walk a bit for miles 2 and 3. By mile 5, my legs were warmed up and I began knocking down the middle miles, sometimes running on the shoulder where there was gravel to soften the pounding (I am such a treadmill runner). The middle miles were easier because there was actual shade, what a difference. Most of Sauvie Island is farm land that is open to the sun. The final 4 miles were back in the sun and had to do a little more walking because I mostly train for 5-7 miles, I was now past my avg distance. By mile 13, my left foot had started to wear down, I just sucked it up and ran the final 1.1 so I can finish with a good time. I did better than I thought crossing the line at 2:07:07 (chip time). No cramping, no nightmares of the Philly Distance Run!
I ran the course with friends Brian Dettling and Jennifer Oloughlin. Brian was Jenn's pace car for the entire run. Wives Stacey D and Jen H walked a portion of the course with Mathilde.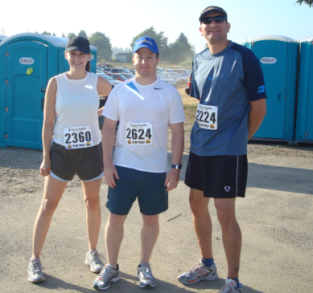 Just gotta love the porta-potty background

my splits (from my watch):
09:04
10:51
11:29
10:07
09:51
08:57
08:41
09:04
09:11
09:07
10:54
09:14
09:28
final: 02:07:10 (13.1 miles)

striking the charlie's angels pose