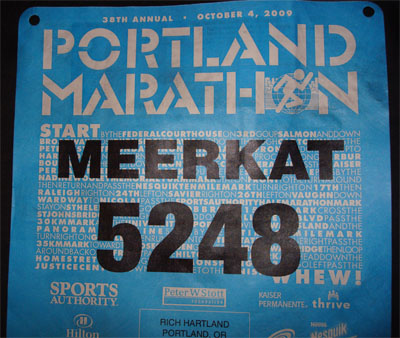 Finished! Finally!
After months of training, hours on the treadmill, and gallons of sweat ... the Portland Marathon quest is over.
Follow up:
The training:
I try running outside, but I never seem to get used to the hard surfaces of street and sidewalk anymore. Compounded with my fear of acquiring a stress fracture, running on a treadmill almost daily was far more comforting than the streets.
I needed to lose weight and gain stamina to be able to endure a full 26.2 mile run. The treadmill was easily my best way of doing so before the Oct 4th race day.
So my crazy treadmill training basically revolved around me running/walking on a treadmill for at least an hour, usually daily. One thing I learned from Jeff Galloway was: when you exercise for at least 45 minutes, any time after the 45 minutes you'll be burning nothing but fat off your body. Good to know if I'm doin 60 mins each time, so that's 15 mins of pure fat-burning - the key to my rapid weight loss the few weeks right before the marathon.
I would give myself goals like running 5 miles in an hour (treadmill always), then try to increase the distances over time. I would go from 5 miles, to 5.5, then 6 miles, 6.2 (10K), 6.5, and my final, fastest goal of 7 miles in one hour. I achieved them all - though the 7 miles in an hour took everything I had.
In the month before the marathon I would sometimes hit the treadmill twice a day: goin in the morning for about 5 miles, then again at night for 6 miles. It was draining, but it's what I wanted to do to achieve my weight goal of 159 lbs. It was not easy. Those double days, I burned over 1,000 calories and it gave me 30 full mins of fat-burning. A slight avoidance to dairy, bread, and beer over the last week helped greatly to me keep shedding pounds. I got to exactly 159.0 the Friday before race day. I was then worried that I had run my legs too much and they would not recover in time for Sunday. But then running solely on a treadmill for over a month instead of a hard outside surface gave me hope that my legs would be okay.
The Portland Marathon:
It was a mostly flat course that is well organized with plenty of aid stations - perfect for someone running their first marathon, like me. The wife and I drove the course a week before race day so I could visualize how I could run it. Kinda important if you plan on running so much farther than you have before. I figured out what stretches I could pace myself, what downhills I could turn the legs loose, what hills to take it easy on, what areas I could enjoy the view, where most of the aid stations would be located, and where the wife would be meeting me along the way. It's certainly smart to know the course when running longer than 10K when the route is not all flat. All this knowledge added up nicely on race day.
Woke up at 5:15am, tossed on my running gear, and strolled down to the gym for one last warm-up on a treadmill before walking down to the starting corral. My strategy was to hang with the 4hr 15min Red Lizard pace group as long as I could for the day. Funny thing was, the 4:15 pace guy seemed to take off and I never saw him again that day. Jen would later tell me that he was right up on the 4hr pace guy's backside most of the time - in other words, he was running too fast!
It's 7am ... the marathon begins! Here we go, slowly running to avoid tripping over anyone else in the tight, wet city streets at a temp in the high 40s. It had rained hours earlier and the roads would be wet for another 3 hours until it got warmer. Turning on to Front Ave the street widens a little and I see Stacey, who would join up with Jen later on down the course. I wave and run on. Get to the Harrison St. turn where the first hill is encountered. Not a problem, legs are fresh.
I run up the gradual incline of Barbur Blvd. until it flattens out. Make a sharp turn back on to Front Ave. for a long downhill to finish up miles 4 & 5 - these will be my fastest miles of the day. During mile 6, I ducked into a port-a-potty for a quick drain. The lines were way too long at the starting line to do so. Running still on Front Ave., I plow thru mile 7 until I see Jen and Stace! Jen has a fresh cup of Gatorade in hand and a few gummi bears (need that glucose!). I walk thru all consumption breaks, ensuring I drink and eat what I need before I take off running again.
Legs feel great as I steamroll thru miles 8 & 9. I then feel no need for the cotton t-shirt I had over my running shirt, so I remove and toss to the side. Feeling much lighter, I run a good time on mile 10 where I surprisingly see C.I.L Charlie (aka cousin-in-law Charlene), who was hanging with friend Trudy and waiting for Daniell to run by. I yell "Charlie!", she yells "C.I.L.!", I run on.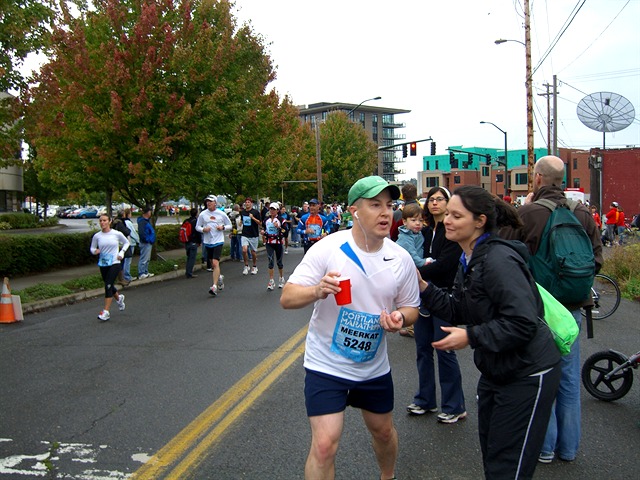 Approaching mile marker 11, I know Jen & Stace will be there so I begin to scan the sidelines. They're on the left. I pull over for another delicious Gatorade, gummi bears, and a smooch for the wife! Run on. While plowing thru another slight incline during miles 12 & 13, an ambulance just happens to cross an intersection. Luckily I had already passed, so I did not have to stop. Sudden stops or turns while running so far is not something you want to do often: you can twist an ankle, pull something, or slip on the wet city streets. Run on. "C.I.L.!", there's Charlene again.
Half-way home now, just crossed the 13.1 mark (and I ran it faster than the half-marathon in July - did not know until I got home). I'm merely clicking my splits every time I pass a mile marker, so I don't know how fast I'm going. I do know the only walking I'm doin is at the aid stations. During this stretch I noticed a runner down on the ground, off the road, getting oxygen by paramedics. Not a sight to see on this day, hope the dude is okay. Run on.
Now in the distance looms the St. Johns Bridge. The bridge itself is nothing to worry about, it's the ridiculous hill you have to climb to get to it - absolutely brutal. I run thru miles 14, 15, & 16. Now the hill. I slowly run up 20 yards until I check my ego and decide to briskly walk up this monster. It's mile 17, not gonna blow what's left of the juice in my legs on this hill and have nothing to finish. It's the 'smart play'.
Miles 16 & 17 were my first splits over 10 mins. Get to the top of the hill and run on. What a sight running over St. Johns! Half the bridge is closed off for the runners. You can see lots of landscape, Mtns Hood & St. Helens, and of course downtown Portland ... but downtown seems soooooo far away from here and I gotta run all the way back. Are you kidding me!
Sightseeing is over. I trot off the bridge, run briefly thru St. Johns, proceed down this horrible downhill that is banked to the left - not fun at all doing this, I'm literally swearing under my breath at this point. Run up a hill and the course flattens out in the North Portland neighborhoods.
Legs are beginning to feel heavy, and walking and running again in and out of aid stations is becoming harder to do. While on the flat shady residential roads I was able to run my last two splits under 10 mins, the rest is all over 10 mins. Miles 20 and on are gonna be tough. "Rich!", Jen yells, I wasn't expecting to see her at this point. She had another fresh cup of Gatorade ready, but I didn't wanna cross thru the crowded traffic to grab it, so I wave and run on.
My iPod Shuffle is a huge plus on this day. Being able to zone out and run to music I enjoy gets me thru those less enjoyable stretches of the marathon. There are local bands every 2 miles or so along the course playing music to inspire the runners and provide entertainment for the devoted spectators. It all helps.
The Fremont Bridge, and more importantly, the Broadway Bridge are in the distance. They seem so much farther now because my legs feel so much heavier. My usual cruising pace is not obtainable anymore. I'm walking a little farther after each aid station and my splits are now in the 10s and 11s.
"Stace!". I see Stacey and her friend Diana on the side of the road around mile 23. I tell Stace thanks, but no need for the gummi bears now. I get a high five from Diana and run on. At this point, an aid station is like an oasis. Sometimes you see a white tent setup in the distance, or a group of people on the side of the street and you think ... ahhhh ... an aid station ... refreshing water. Nope. Just another local band or a gathering of spectators. Ugh.
Refreshments have done their job, but now it's all guts. Miles 24 and on are simply brutal. But I finally looked at my watch to figure out if I'm gonna make my goal of 4hrs 30mins ... while crossing the Broadway Bridge I realize ... I am ahead! I got 40 mins to run the final 5K of the marathon. I know if I run a 10 min pace I got it easily. So I run on, relieved that I am ahead of the mark. I think to myself ... "I got this!" ... barring catastrophe. I finish off miles 24 & 25 and my thighs now feel like they are being filled with cement. Damn! I am a mile away from the finish and it's killing me not to be able to run this whole last mile. Again, I must check my ego and reluctantly walk ... for at least half a mile. But just after the final aid station, I run. I got enough left to run the final 1/4 mile and cross the finish line. The huge crowd of spectators around the finishing stretch is really inspirational. The electricity from the cheers gives you just a bit of adrenaline. I make the final turn ... and cross over. I'm fucking done!
My chip time was 4 hrs 23 mins 4 secs. I beat my mark! I can't believe it. I receive my space blanket and medal and stroll on. "Rich!", it's C.I.L. Charlene again. She asks me to pose with my finisher medal, so I happily oblige.
I move on to find the heavenly bliss in a bottle that is called Chocolate Nesquik! It's supposedly great for recovery. I hobble over and grab a red rose that is also handed out to runners and my marathon finisher blue-green long-sleeve shirt. At this point I'm cold and stiff and just wanna hobble down to the clothing check-in to get my running pants and windbreaker so I can put them on to get somewhat warm again. I run into Stace again, we meet up with some fellow runners. We all chit-chat, compare times, and congratulate each other.
It's time for me to get out of here. I stroll up to the downtown street-car and take it to the tavern where I'm meeting Jen. We kick back in a booth, snack on some food, and I enjoy my much deserved post-race celebratory beer. Mmmmmmm. I can relax. No treadmill for at least a week!
The SPLITS (from my watch):
mile 01--> 10:33
mile 02--> 9:33
mile 03--> 9:58
mile 04--> 8:23
mile 05--> 8:11
mile 06--> 9:45
mile 07--> 8:37
mile 08--> 8:30
mile 09--> 9:56
mile 10--> 9:02
mile 11--> 9:33
mile 12--> 9:57
mile 13--> 9:05
mile 14--> 9:44
mile 15--> 9:24
mile 16--> 10:40
mile 17--> 12:40
mile 18--> 9:27
mile 19--> 9:31
mile 20--> 11:08
mile 21--> 11:14
mile 22--> 10:10
mile 23--> 10:18
mile 24--> 10:33
mile 25--> 11:11
mile 26--> 13:45
The SPLITS (from marathon timing):
10 Km----> 0:58:20
8.9 Mi---> 1:22:13
Half-----> 2:02:28
17.5 Mi--> 2:48:02
20 Mi----> 3:13:44
21.1 Mi--> 3:26:06
TOTAL MARATHON TIME: 4 hrs 23 mins 4 secs
MARATHON PACE: 10:03
A BIG THANK YOU to my wife JEN!!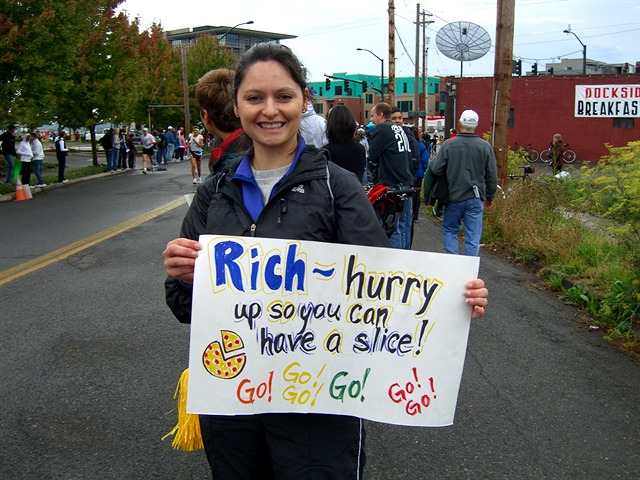 Without your support babe, I could not have done so well!