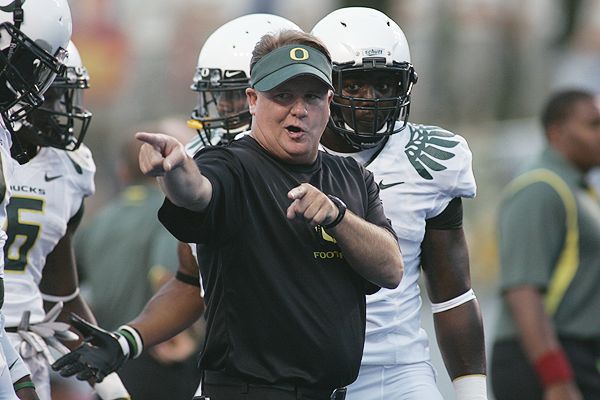 Don't look now. But the Oregon Ducks season is feelin much better than it was just a month ago. Back on 9/12, the Ducks slinked out of Autzen after barely defeating the Purdue Boilermakers. This was just a week after the disaster called 'LeGarrette Blount at Boise'. Oregon was sittin at 1-1 after week 2 and lookin up at a daunting schedule. #18 Utah was coming in to Eugene next, followed by #6 California. Ugh.
Follow up:
Fast forward to now. Oregon is 4-0 in the PAC-10 and 5-1 overall while ranked #13 in the AP poll. All because the Ducks got the win against Utah, drubbed the highly overrated Cal Bears and thumped the rather sorry Wolfpack of Washington State. Oh yeah, ran over the UCLA Bruins in the second half of that 'trap' road game.
Sittin pretty.
It's currently week 7 of the NCAA Football season and Oregon has the week off to freshen up. That same pesky Purdue team has just beat #7 Ohio State. Also, #19 Georgia Tech has defeated #4 Virginia Tech. So Oregon should jump up to at least #11 when the new rankings are released.
Time to put on them green-colored glasses. Assuming the Ducks run the table. That means they travel to Seattle and win a tough one against the Huskies. Followed by a huge win in Eugene against the big bully of the PAC-10, the USC Trojans. Manage some Ws against Stanford, Arizona State and Arizona. And survive the Civil War against the rival Beavers. When the dust settles Oregon will be 11-1 and at worst ranked #9. Most likely higher if you assume a few other teams fall.
One game at a time.
10/24 @ Washington
10/31 USC
11/07 @ Stanford
11/14 Arizona State
11/21 @ Arizona
12/03 Oregon State
The Ducks defense have shown great improvement since that Purdue game. Masoli and the offensive line have been clickin on all cylinders lately with the running game. But I'm still not convinced the passing game can win Oregon a ball game. Unless of course, opposing defenses decide to not cover superstar TE Ed Dickson. Masoli makes bad decisions with the ball when he's forced into obvious passing situations. If the o-line can't create the gaps for the running game that it has been doing, the 'passing' Masoli will have to emerge and show better decision-making with the football to survive.
These next 2 weeks will decide for the Ducks ... BCS bowl ... or brand x bowl.