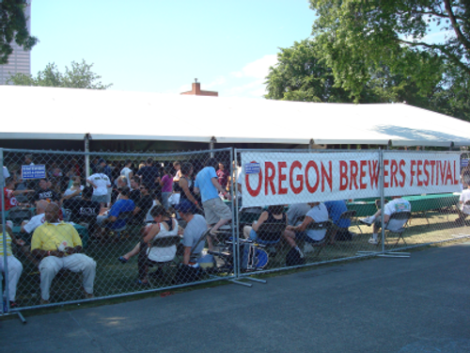 The wife and I strolled down to Tom McCall Waterfront Park to enjoy a beautiful day and to challenge our beer palates at the 2009 OBF. We managed to save a few bucks by reusing some friends' mugs that were purchased the previous day (thanks mike&beth!). We arrived a few minutes after the gates were opened at noon and there was a brief line getting in (mostly due to ID checks). Once in, we got our nifty wooden beer tokens and began our sampling venture.
Here is our sampled beer rundown:
Alameda Brewing Co / El Torero IPA
Amnesia Brewing / Goldyhops
Astoria Brewing Co / Bitter Bitch
Bayern Brewing / Dragon Breath Dark Heff
Dogfish Head Craft Brewery / Festina Peche
Eel River Brewing / Organic Acai Berry Wheat
Fish Brewing Co / Fish Tale Organic Wild Salmon Pale Ale
Flying Fish Brewing Co / Flying Fish Abbey Dubbel
Hopworks Urban Brewery / Organic Rise Up Red
Laht Neppur Brewing Co / Neddy's Brown Nut
Lazy Boy Brewing Co / Lazy Boy Imperial Redhead
Rogue Ales / Latona Pale Ale
Rich's favorite: Organic Rise Up Red - HUB
Rich's runner-up: Neddy's Brown Nut - Laht Neppur
Jen's favorite: Fish Tale Organic Wild Salmon Pale Ale - Fish
Jen's runner-up: Festina Peche - Dogfish Head
We were spoiled by the 0-4 person beer lines that were the norm for the afternoon. So when I saw that the line for the Pomegranate Wheat by Moylan's was about 12 deep, we skipped this one, but were very curious why so many gravitated to this beer. Jen is sure if she didn't just have a sip of the Festina Peche that I sampled, she might have made it her favorite (she's such a sucker for the sour tasting drinks). And how funny is it she loved a beer from Delaware (Dogfish)? I now look forward to going back to HUB, order up a few Rise Up Reds, while I chomp down on their delicious pizza.